A little about Premier Finance Adjusters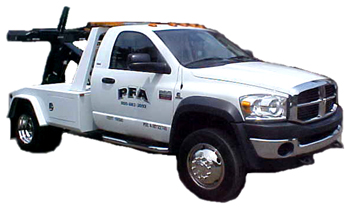 Thank you for considering Premier for your collateral recovery needs. We value your business and want you to know Premier MEANS Professional.
Premier Finance Adjusters started operations in 2003 after purchasing the company from it's previous owners. With this new ownership, management brought new ideas, policies and procedures.
Since then, we have tripled our coverage area, which means more complete service for our clients. We now cover 100% of Pennsylvania, as well as parts of Eastern Ohio, the West Virginia Panhandle, and North Western New Jersey . This gives our clients a great advantage when a debtor moves- that client rarely has to reassign an account in order to run that new address.

With a huge fleet of the newest trucks, you are assured that you will receive the very latest in recovery technology and total reliability. Also, more trucks means that we are able to cover more ground sooner and in recovery and remarketing — time is crucial.
Our most important asset of all is our courteous and knowledgeable staff – dedicated to providing you, our client, with Professional Service with a Personal Touch. Premier has established its name as a leader in the recovery industry. In a profession that demands character and integrity, we will NEVER settle for LESS and neither should you. When you need premier service, Premier Finance Adjusters are the Experts You Can Trust…
Ready to work with the best in the industry?
Click the button to the right to get started.